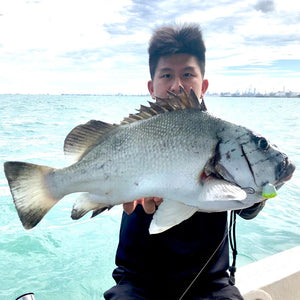 Light Tenya Game In Singapore
Hi Guys! Recently i have been doing some light Tenya fishing, and i have to admit that i have come to throughly enjoy the Light Tenya Game. 
WARNING! This Is highly addictive. (Stop reading if you can't resist temptation)
The Tenya originated in Japan to target Red Bream/Snapper (with Sakura prawns as bait). They are designed with wide, flat bottoms so they rock from side to side as they descend, keeping them longer in the strike zone (usually mid water). Here we fish them shallow targeting bottom dwelling species. 
A sharp, thin gauge main hook is angled onto the lead weight. The prawn (with the tail cut off) is slid into the hook and is presented to the fish upside down. An additional assist hook attached via a twisted fluorocarbon line to the weight is used to hook the prawn on the head beyond the exposed main hook.
Working the Tenya is pretty simple. We are basically bouncing it off the bottom with a lift and fall method, as the boat drifts. It is important to keep your line as straight as possible and reset when the angle of your line drifts over 45 degrees. This will reduce snagging, and also allow you to set the hook more effectively.
For Light Tenya Game, a rod with a solid tip is important. The sensitivity from the solid tip detects the slightest of nibbles, and at the same time allows wary fish to commit to the bait without feeling the tension and becoming spooked. 
Because we are fishing with light Tenya in the size #8 - #15 range, it is important to use light lines and leaders with a reel that has a smooth drag. I would highly recommend PE0.8-1 line with 30-40lb FC leader. Remember to check your leader for abrasion regularly and re-tie if necessary. DON'T BE LAZY. (It will lose you good fish.)
One of the most important aspects of fishing light Tenya in Singapore is having the right skipper. Find one that truly understands the nature of game and takes you to the right area. Ideally you want to be fishing at depths of 30m and below.
They will be occasions when you bait gets disturbed by smaller fishes, squid etc.  In these instances lift your rod to about 45 degrees upwards. If it is a bigger specimen, it will tend to commit with a stronger hit. Also remember to check on your prawn regularly and change it if required.
When you do connect with a fish. Keep your rod tip down and crank. Let your reel do the work. Maintain tension at all times.Set your drag to best match the rod that you are using. There will be times when you hit a large fish and get bullied. That's all part and parcel of the excitement that Light Tenya Game has to offer.

I am using:
Rod: Jackall Bin Bin HS S69ML
Reel: Tailwalk Speaky 2000 HGX
Line: Duel Hardcore X4 Pro PE0.8
Leader: Duel BIG Fluorocarbon 22lbs
Tenya: Palms Cha Cha Tenya #8, #12, #16
---
1 comment