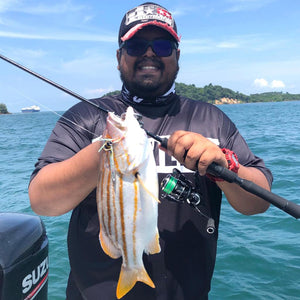 Micro Jigging In Singapore
Hello Everyone,
Welcome to our brand new website. This is my first blog post here. With our borders closed and travel suspended due to the Covid-19 pandemic. The spotlight is now fixed firmly on Fishing in Singapore. 
Here is a recent catch report from our micro jigging trip to the southern islands. I will share some information about what i used and how we targeted certain species.
For this trip, we focused on micro jigging. We were using ultra light to light fishing rods with regular action. Personally, i use the Apia Grandage STD 66L. The tip is relatively sensitive with smaller jigs. it also has the backbone to handle biggies
The fish are mainly feeding on baitfish like anchovy or small squid when they are in season. I use tungsten jigs because they have a compact profile and sink faster. The sizes range from 7, 14, 21, 28g to cover various current and wind conditions
Lines ranging from PE 0.4 -1 are commonly used for micro jigging. The thin diameter reduces the water resistance and aids the jig to sink faster. I am using Duel Hardcore X8 Pro PE0.8 with Duel Big FC leader ranging from 12 - 20lbs.
When using lines with such thin diameter, it is important to have a reel with sufficient line capacity and a smooth drag. I pair my rods with 2500-C3000 sized Shimano reels or their equivalent like the Tailwalk Speaky 2000 reel.
Colour selection will always be a subjective matter. I fish natural colours like Silver, Green Gold or Blue Sardine when the water is clear and it is sunny. I switch to Lumo when the water is murky or the sky is overcast to create a contrast.
Assist hooks and terminal tackle like swivels and split rings should match your jig's size. Tinsel and Fish Skin definitely give you an advantage. I use twin assist hooks from sizes #2, #4 or #6 depending on the profile of jig i am using.
When targeting pelagics, working the jig fast across a vertical or diagonal plane is effective when they are feeding. Most of these speedsters have really soft mouths, so go easy on the drag to avoid tearing the mouth and dropping the fish.
If you are targeting reef species, a slower presentation is more effective. Give the jig a couple of twitches and let it fall back to the bottom. A higher drag setting is required to prevent the fish from dashing back into structure and busting you off.
Sometimes, despite trying everything the fish simply won't bite. Weather, Tide, Current, Wind, Temperature are all factors that contribute to this. Pelagics are most active when the current is fast at dawn or dusk. When the current is slow or dead it's better to target reef species instead. Good Luck!
---
1 comment